Hi, friends of the wiki!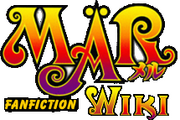 You must wonder why I say that when I'm on here every day. Well, the truth is, I've just exceeded 7 edits, so that's 35 to go before I get my 1000th Edit. But, while I was watching the ramp stunt, and at the grocery store, I thought of something that might interest you, might make you despise me forever.

I'm going to accept ideas for MÄR FanFiction, in your way of speaking.

To me, it sounds like something to be fairly excited about: "FanFiction" of MÄR Märchen Awakens Romance from Heroes, Villains and The Pirates. Some pals of mine said it was a good idea, and that they'd contribute their ideas.

So, I'm sending out a request: Give me a suggestion of Ginta and I'll write it. It must be appropriate for several reasons: I think that the average 12 year old should be able to know some of what we're talking about without too much terror. So, that being said, I don't want a horror-themed story. But I won't limit suspense, drama, friendship, romance, Adventure, action… you get it.

But, romance needs a borderline. Pairings are cool, cool? But you need to get that extreme points are disabled. Fan characters as you call them are allowed without one of us paired. They are allowed to have relationships with another character of your or someone else's design with permission.

That about covers it; ask if you need more info before you try to suggest something. Now, I'm off to the candy store. Peace!
Ad blocker interference detected!
Wikia is a free-to-use site that makes money from advertising. We have a modified experience for viewers using ad blockers

Wikia is not accessible if you've made further modifications. Remove the custom ad blocker rule(s) and the page will load as expected.