The Flat Sisters
Characteristics
Name
The Flat Sisters
Appears In
Anime only
Gender
Female
Affiliation
Chess Pieces:Ghost Chess
Family
Each other
Parents (deceased)
ÄRMs
Mess
Rotkäppchen
Seiyū (Japanese)
Grave: Kana Ueda
Allegro: Kaori Shimizu
Moderato: Mai Kadowaki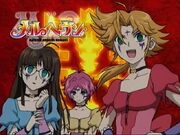 The Flat Sisters (or just The Flats) are a group of three sisters and members of the Ghost Chess. After they lost their parents at a young age, the sisters were taken in by Kapel Meister and received the power of Ghost ÄRM. Extremely loyal to their leader, they even refer to him as 'big brother'.
After initially battling Ginta and Jack in episode 89, they return to battle Ginta and Dorothy in episode 91. They seem to be upset by Dorothy's chest.
Along with General and Pause, the sisters met their end when Kappel Meister turned on them and absorbed them into his body. Unlike their two teammates, the three sisters held no ill will to their master as they perished, and considered it a blessing to die for him.
The Flat's ÄRM are:
Mess: Turns the user's hand into a sword blade.
Rotkäppchen: Combines A, B and C into a large Red Riding Hood-like guardian that uses physical and energy attacks. Bears a strong resemblance to Akazukin Chacha
Ad blocker interference detected!
Wikia is a free-to-use site that makes money from advertising. We have a modified experience for viewers using ad blockers

Wikia is not accessible if you've made further modifications. Remove the custom ad blocker rule(s) and the page will load as expected.