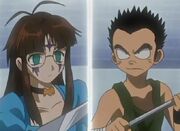 Moderato is Sister C and thirdborn of the Flats. She has the title "The Shy". She has faced Jack.
Her motto while forming Rotkäppchen is "dance the steps to victory".
After succumbing it the effects for overusing their Ghost ÄRM
Ad blocker interference detected!
Wikia is a free-to-use site that makes money from advertising. We have a modified experience for viewers using ad blockers

Wikia is not accessible if you've made further modifications. Remove the custom ad blocker rule(s) and the page will load as expected.